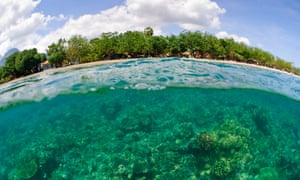 It's not about pristine sands – we need seaweed, coral and mangroves to sustain marine wildlife and protect the world's coasts
To the untrained eye, all beaches can look healthy – the sea gives them a restorative glow. The Beach Ecology Coalition is based in California, but its indicators for a healthy beach broadly hold for Skegness as much as California's Laguna. Don't be fooled by pristine beaches. A healthy one should be strewn with wrack: organic litter including seaweed that sustains beach hoppers and birds.
In tropical waters the indicators of health are under the sea, or acting as a buffer for storms. Coral reefs and mangroves are key to the survival not just of beaches but entire populations. Healthy coral reef can reduce a wave's energy by 97% before it reaches the shore and 100 metres of mangrove will reduce a wave's height by 66%. Destroying them means losing protection from storms and rising sea levels.
As we don't come across much coral off our own beaches (there's one coldwater species off the Scottish coast), we don't tend to think about it. But corals are our problem, too. Despite occupying less than 0.2% of the world's oceans, coral reefs contain 35% of all known marine species. Their survival is crucial, possibly only second to that of bees.
Governments act as if it's not their business, either, continuing to cast the protection of nature as an expense rather than a saving. Even the insurance industry is ahead of them. Beachfront hotels along Mexico's part of the Mesoamerican reef now pay into an insurance scheme. This policy pays out within 10 days if the reef is hit by a storm in order to pay for its rapid repair.
Regarding nature as an insurable asset may strike you as a great innovation or an idea as sick as the reef itself. But it's important to have the conversation. Beaches are not just for summer any more.
Email Lucy at [email protected] or follow her on Twitter @lucysiegle